Burning of Pennsylvania Hall
Abolition in Pennsylvania has a long, storied history.  Philadelphia boasts the first abolitionist society founded in the Americas (AD 1775), and the city became a key frontier in the struggle for African freedom.
Early American abolition was rooted in a philosophy known as incrementalism — the belief that evils can be removed from a culture by gradually working them into submission.  These measures would help one individual slave at a time, often through the practice of colonization, where slaves would be taken through the underground railroad, smuggled to freedom, then shipped out to Africa.
Early abolitionists looked at slavery as evil, but rather than work to abolish that evil, abolitionists tried to alleviate it by working within the paradigm of slavery as an institution.  They did not try to end the institution itself; rather they simply offered an alternative by helping individuals escape it one slave at a time.  Rather than oppose chattel slavery with the gospel of Jesus Christ, they acted as if it could not be ended, and thus did not hold the nation accountable to abolish it.
In the 1830's however, a new breed of American abolition was born.  William Lloyd Garrison reintroduced a philosophy known as immediatism — the belief that evil can only be overcome by making an uncompromising stand, and calling for its immediate abolition.
Assenting to the 'self-evident truth' maintained in the American Declaration of Independence, 'that all men are created equal, and endowed by their Creator with certain inalienable rights–among which are life, liberty and the pursuit of happiness,' I shall strenuously contend for the immediate enfranchisement of our slave population.

In Park-street Church, on the Fourth of July, 1829, in an address on slavery, I unreflectingly assented to the popular but pernicious doctrine of gradual abolition.  I seize this opportunity to make a full and unequivocal recantation, and thus publicly to ask pardon of my God, of my country, and of my brethren the poor slaves, for having shared a sentiment so full of timidity, injustice and absurdity…

On this subject, I do not wish to think, or speak, or write with moderation.  No! no!  Tell a man whose house is on fire, to give a moderate alarm; tell him to moderately rescue his wife from the hands of the ravisher; tell the mother to gradually extricate her babe from the fire into which it has fallen; –but urge me not to use moderation in a cause like the present.  I am in earnest–I will not equivocate–I will not excuse–I will not retreat a single inch–AND I WILL BE HEARD.
Unlike their predecessors, Garrisonian abolitionists stood squarely on the gospel of God and obedience to His word; therefore they focused on calling the United States of America to immediate and total repentance for the sin of chattel slavery.  As their movement gained traction, things came to a head in Pennsylvania when the new abolitionists united in Philadelphia to hold a conference (AD 1838).
Philadelphians opposed the gathering for several reasons.  They felt that freed slaves would take their jobs and ruin the local economy.  They felt that it was not right for freed slaves and white women to be in a building together, and they were angered by this public showing of equality. Philadelphians opposed it so thoroughly that no building owner would allow the conference to meet in his facilities.  So abolitionists raised money to build a new structure — Pennsylvania Hall — as a monument to freedom and free speech.
The Philadelphians became so furious that over the course of the conference, they stood outside of Pennsylvania Hall, rioting and shouting, throwing rocks at the windows, and opposing the call to justice that the abolitionists of slavery both embodied and required.  Angelina Grimke, one of the speakers, improvised her words in response to the rioters.
Men, brethren and fathers — mothers, daughters and sisters, what came ye out for to see? A reed shaken with the wind?  Is it curiosity merely, or a deep sympathy with the perishing slave, that has brought this large audience together? [A yell from the mob without the building.]  Those voices without ought to awaken and call out our warmest sympathies.  Deluded beings!  "They know not what they do."  They know not that they are undermining their own rights and their own happiness, temporal and eternal.

Do you ask, "what has the North to do with slavery?"  Hear it — hear it.  Those voices without tell us that the spirit of slavery is here, and has been roused to wrath by our abolition speeches and conventions: for surely liberty would not foam and tear herself with rage, because her friends are multiplied daily, and meetings are held in quick succession to set forth her virtues and extend her peaceful kingdom.  This opposition shows that slavery has done its deadliest work in the hearts of our citizens.

Do you ask, then, "what has the North to do?"  I answer, cast out first the spirit of slavery from your own hearts, and then lend your aid to convert the South.  Each one present has a work to do, be his or her situation what it may, however limited their means, or insignificant their supposed influence.  The great men of this country will not do this work; the church will never do it.  A desire to please the world, to keep the favor of all parties and of all conditions, makes them dumb on this and every other unpopular subject.  They have become worldly-wise, and therefore God, in his wisdom, employs them not to carry on his plans of reformation and salvation.  He hath chosen the foolish things of the world to confound the wise, and the weak to overcome the mighty…

What is a mob?  What would the breaking of every window be?  What would the leveling of this Hall be?  Any evidence that we are wrong, or that slavery is a good and wholesome institution?  What if the mob should now burst in upon us, break up our meeting and commit violence upon our persons — would this be any thing compared with what the slaves endure? No, no: and we do not remember them "as bound with them," if we shrink in the time of peril, or feel unwilling to sacrifice ourselves, if need be, for their sake. [Great noise.]  I thank the Lord that there is yet life left enough to feel the truth, even though it rages at it — that conscience is not so completely seared as to be unmoved by the truth of the living God.
The convention met in full force the next day, despite orders from the Mayor to restrict further gatherings to white women only.  Fearing for their safety, the building managers handed the keys over to the mayor, who then promptly disbanded the convention and locked Pennsylvania Hall.  That night, the mob burned Pennsylvania Hall to the ground.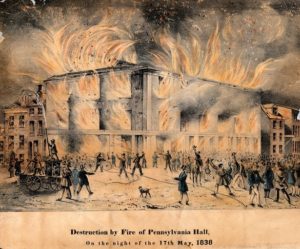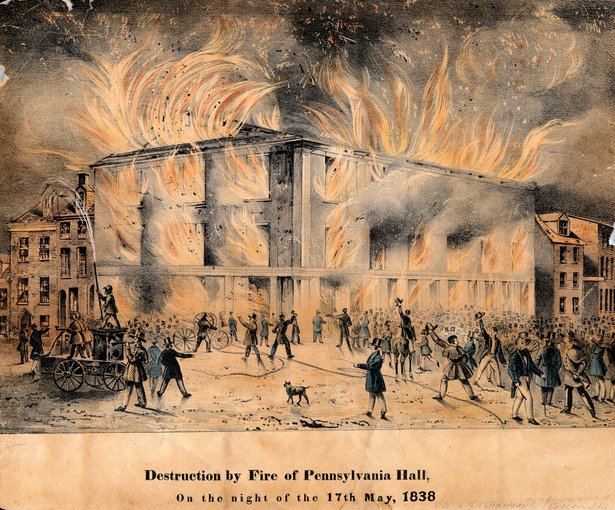 "The crowd cheered as [the mayor] walked away.  Soon after, the crowd broke into the building, destroying the interior and setting fires.  The mayor returned with the police, but by now the mob was out of control — any attempts the police made to restore order were met by attacks. By nine o'clock the fires had spread, engulfing the building in flames.  Firefighters arrived at the scene but sprayed only the structures that surrounded Pennsylvania Hall.  When one unit tried spraying the new building, its men became the target of the other units' hoses.  With no one working to save Pennsylvania Hall, it was soon completely destroyed." —PBS on Pennsylvania Hall
We have the same conflict growing before us today — the same call for justice and mercy, and senseless antagonism in response.  Pennsylvania does not want to end abortion; the people shout and throw things at abolitionists who speak up for those who have no voice.  Pro-Life legislators respond only with ineffective, incremental laws while we tout our history of liberty and perpetuate tyranny.
And so Pennsylvania, will we perpetuate tyranny, or cry out for liberty? Both can't survive; the only true liberty is found in Jesus Christ.
Share the Article, Fuel the Movement